Flooring by the Numbers
By Brad Storck, Bachmeier Carpet One Floor & Home 
After months of quarantine many of us have had time to look around our homes and decided… it's time for an upgrade! But how much flooring do you need? In this article, I will try to address how to measure your home for the new flooring of your dreams!
Flooring Types
When it comes to flooring there are so many options to choose from: hardwood, bamboo, tile, stone, laminate, luxury vinyl, cork, rubber, sheet vinyl and carpet. Let's start by narrowing it down to two categories: soft surface and hard surface. Soft surface covers products that come in rolls, such as carpet, sheet vinyl and rubber. Hard surface will cover the rest of the options previously listed. Of course, there are always exceptions like in the case of carpet tile and rubber tile, but that is for another day. Now that we have simplified things a bit you have to understand that measuring for hard- and soft-surface flooring are quite a bit different.
Measuring Hard-Surface Flooring
Since hard-surface flooring has become increasingly popular in residential homes, that is what I will try to explain in this article. When measuring for hard surface the Net Square Footage (NSF) is the number you are looking to find. NSF can be calculated by multiplying the length of a room by the width of the room. Of course, not all rooms are perfect squares so at times you may need to measure a couple of times in a room to get the full NSF. The images below will give you a better visual of how this works highlighted in red.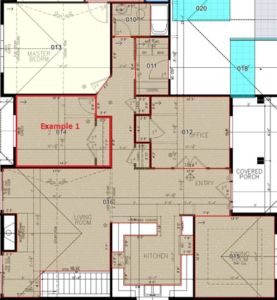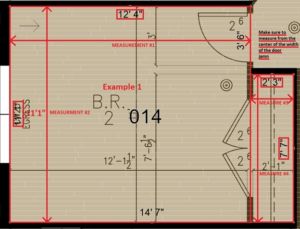 Be sure to take your measurements starting halfway between the overall width of the door jamb as shown, then across the room. In this example the first measurement came to 12'4" and the second 11'1". To find the NSF of the main portion of the room, multiply 12'4" X 11'1" or 12.33 X 11.08 on your calculator, which comes to 136.6164NSF. To simplify this, just round up to the nearest whole number or 137NSF. Repeat this for the closet. 2'3" X 7'7" or 2.25X7.58=17.055 rounded to 18NSF. Simply add the two numbers together for the total net square footage. 137+18=155NSF.
Putting this into a larger scale, it will be necessary to box out or square entire rooms to get the correct measurements. This is represented by the image below. Please note the area in the hall with the diagonal doorway and how to calculate that space by multiplying by .5 or dividing by 2. As shown by the boxes, this may require multiple measures in any given area.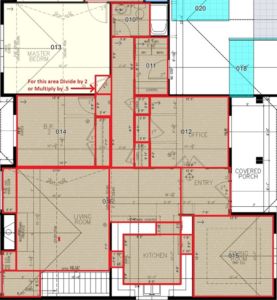 Now that you have the NSF of the room(s), you will need to figure waste or overage for your project. Typically, this number can vary due to the size of product. For our purposes we will use 10 percent in regard to the bedroom we measured earlier. That bedroom came to 155NSF, so to figure our waste/overage we will multiply 155 by 1.1 which comes to 170.5 Total Square Footage of material to complete your project.
Additional Considerations
Other things to consider when measuring for hard surface would be that your base boards will need to be removed for installation and replaced upon completion. Will you need transitions to other flooring surfaces? Transitions such as a t-mold when meeting up to a flooring of similar height or a reducer if one flooring is higher than the other. Most commonly you will find these transitions at doorways in a hall leading to a bathroom, bedroom or laundry. Does your new hard surface flooring meet up to a descending flight of stairs, if so, you will need a stair nose at the top of the stairs. Many hard surface floors also offer matching vents for a much cleaner overall look to the project. You will want to get a count of the number of vents as well as their size. Common sizes are 2"x10", 2"x12", 4"x10" and 4"x12".
Bachmeier to the Rescue
I know, it's confusing. Hopefully, that was not too overwhelming, but if I lost you somewhere along the way, Fear Not! The professionals at Bachmeier Carpet One Floor & Home would be more than happy to schedule your free in-home measure and estimate for all of your flooring, backsplash, fireplace, tub surround, custom tile shower and window blind needs!
We will follow any Covid-19 precautions you require. Our store is a Mask of Wellness participant! All samples are disinfected immediately upon return for your safety. Give us a call at (319) 545-5678 or visit us online at bachmeiercarpetone.com! If you're still not ready for a face-to-face, we would be happy to chat with you and take you through our showroom on the virtual platform of your choice.